5
Coutumes et étrangetés, portrait chinois
Warning
: preg_match(): Compilation failed: invalid range in character class at offset 4 in
/home/tzavdesi/host/empreintedasie/wp-content/plugins/lightbox-plus/classes/shd.class.php
on line
1384
Warning
: preg_match(): Compilation failed: invalid range in character class at offset 4 in
/home/tzavdesi/host/empreintedasie/wp-content/plugins/lightbox-plus/classes/shd.class.php
on line
1384
Warning
: preg_match(): Compilation failed: invalid range in character class at offset 4 in
/home/tzavdesi/host/empreintedasie/wp-content/plugins/lightbox-plus/classes/shd.class.php
on line
1384
Warning
: preg_match(): Compilation failed: invalid range in character class at offset 4 in
/home/tzavdesi/host/empreintedasie/wp-content/plugins/lightbox-plus/classes/shd.class.php
on line
1384
Warning
: preg_match(): Compilation failed: invalid range in character class at offset 4 in
/home/tzavdesi/host/empreintedasie/wp-content/plugins/lightbox-plus/classes/shd.class.php
on line
1384
Warning
: preg_match(): Compilation failed: invalid range in character class at offset 4 in
/home/tzavdesi/host/empreintedasie/wp-content/plugins/lightbox-plus/classes/shd.class.php
on line
1384
Warning
: preg_match(): Compilation failed: invalid range in character class at offset 4 in
/home/tzavdesi/host/empreintedasie/wp-content/plugins/lightbox-plus/classes/shd.class.php
on line
1384
Warning
: preg_match(): Compilation failed: invalid range in character class at offset 4 in
/home/tzavdesi/host/empreintedasie/wp-content/plugins/lightbox-plus/classes/shd.class.php
on line
1384
Warning
: preg_match(): Compilation failed: invalid range in character class at offset 4 in
/home/tzavdesi/host/empreintedasie/wp-content/plugins/lightbox-plus/classes/shd.class.php
on line
1384
Warning
: preg_match(): Compilation failed: invalid range in character class at offset 4 in
/home/tzavdesi/host/empreintedasie/wp-content/plugins/lightbox-plus/classes/shd.class.php
on line
1384
Warning
: preg_match(): Compilation failed: invalid range in character class at offset 4 in
/home/tzavdesi/host/empreintedasie/wp-content/plugins/lightbox-plus/classes/shd.class.php
on line
1384
Warning
: preg_match(): Compilation failed: invalid range in character class at offset 4 in
/home/tzavdesi/host/empreintedasie/wp-content/plugins/lightbox-plus/classes/shd.class.php
on line
1384
Warning
: preg_match(): Compilation failed: invalid range in character class at offset 4 in
/home/tzavdesi/host/empreintedasie/wp-content/plugins/lightbox-plus/classes/shd.class.php
on line
1384
Warning
: preg_match(): Compilation failed: invalid range in character class at offset 4 in
/home/tzavdesi/host/empreintedasie/wp-content/plugins/lightbox-plus/classes/shd.class.php
on line
1384
Warning
: preg_match(): Compilation failed: invalid range in character class at offset 4 in
/home/tzavdesi/host/empreintedasie/wp-content/plugins/lightbox-plus/classes/shd.class.php
on line
1384
Warning
: preg_match(): Compilation failed: invalid range in character class at offset 4 in
/home/tzavdesi/host/empreintedasie/wp-content/plugins/lightbox-plus/classes/shd.class.php
on line
1384
Warning
: preg_match(): Compilation failed: invalid range in character class at offset 4 in
/home/tzavdesi/host/empreintedasie/wp-content/plugins/lightbox-plus/classes/shd.class.php
on line
1384
Warning
: preg_match(): Compilation failed: invalid range in character class at offset 4 in
/home/tzavdesi/host/empreintedasie/wp-content/plugins/lightbox-plus/classes/shd.class.php
on line
1384
Warning
: preg_match(): Compilation failed: invalid range in character class at offset 4 in
/home/tzavdesi/host/empreintedasie/wp-content/plugins/lightbox-plus/classes/shd.class.php
on line
1384
Warning
: preg_match(): Compilation failed: invalid range in character class at offset 4 in
/home/tzavdesi/host/empreintedasie/wp-content/plugins/lightbox-plus/classes/shd.class.php
on line
1384
Warning
: preg_match(): Compilation failed: invalid range in character class at offset 4 in
/home/tzavdesi/host/empreintedasie/wp-content/plugins/lightbox-plus/classes/shd.class.php
on line
1384
Warning
: preg_match(): Compilation failed: invalid range in character class at offset 4 in
/home/tzavdesi/host/empreintedasie/wp-content/plugins/lightbox-plus/classes/shd.class.php
on line
1384
Warning
: preg_match(): Compilation failed: invalid range in character class at offset 4 in
/home/tzavdesi/host/empreintedasie/wp-content/plugins/lightbox-plus/classes/shd.class.php
on line
1384
Warning
: preg_match(): Compilation failed: invalid range in character class at offset 4 in
/home/tzavdesi/host/empreintedasie/wp-content/plugins/lightbox-plus/classes/shd.class.php
on line
1384
Warning
: preg_match(): Compilation failed: invalid range in character class at offset 4 in
/home/tzavdesi/host/empreintedasie/wp-content/plugins/lightbox-plus/classes/shd.class.php
on line
1384
Warning
: preg_match(): Compilation failed: invalid range in character class at offset 4 in
/home/tzavdesi/host/empreintedasie/wp-content/plugins/lightbox-plus/classes/shd.class.php
on line
1384
Warning
: preg_match(): Compilation failed: invalid range in character class at offset 4 in
/home/tzavdesi/host/empreintedasie/wp-content/plugins/lightbox-plus/classes/shd.class.php
on line
1384
Warning
: preg_match(): Compilation failed: invalid range in character class at offset 4 in
/home/tzavdesi/host/empreintedasie/wp-content/plugins/lightbox-plus/classes/shd.class.php
on line
1384
Warning
: preg_match(): Compilation failed: invalid range in character class at offset 4 in
/home/tzavdesi/host/empreintedasie/wp-content/plugins/lightbox-plus/classes/shd.class.php
on line
1384
Warning
: preg_match(): Compilation failed: invalid range in character class at offset 4 in
/home/tzavdesi/host/empreintedasie/wp-content/plugins/lightbox-plus/classes/shd.class.php
on line
1384
Warning
: preg_match(): Compilation failed: invalid range in character class at offset 4 in
/home/tzavdesi/host/empreintedasie/wp-content/plugins/lightbox-plus/classes/shd.class.php
on line
1384
Warning
: preg_match(): Compilation failed: invalid range in character class at offset 4 in
/home/tzavdesi/host/empreintedasie/wp-content/plugins/lightbox-plus/classes/shd.class.php
on line
1384
Warning
: preg_match(): Compilation failed: invalid range in character class at offset 4 in
/home/tzavdesi/host/empreintedasie/wp-content/plugins/lightbox-plus/classes/shd.class.php
on line
1384
Warning
: preg_match(): Compilation failed: invalid range in character class at offset 4 in
/home/tzavdesi/host/empreintedasie/wp-content/plugins/lightbox-plus/classes/shd.class.php
on line
1384
Warning
: preg_match(): Compilation failed: invalid range in character class at offset 4 in
/home/tzavdesi/host/empreintedasie/wp-content/plugins/lightbox-plus/classes/shd.class.php
on line
1384
Warning
: preg_match(): Compilation failed: invalid range in character class at offset 4 in
/home/tzavdesi/host/empreintedasie/wp-content/plugins/lightbox-plus/classes/shd.class.php
on line
1384
Warning
: preg_match(): Compilation failed: invalid range in character class at offset 4 in
/home/tzavdesi/host/empreintedasie/wp-content/plugins/lightbox-plus/classes/shd.class.php
on line
1384
Warning
: preg_match(): Compilation failed: invalid range in character class at offset 4 in
/home/tzavdesi/host/empreintedasie/wp-content/plugins/lightbox-plus/classes/shd.class.php
on line
1384
Warning
: preg_match(): Compilation failed: invalid range in character class at offset 4 in
/home/tzavdesi/host/empreintedasie/wp-content/plugins/lightbox-plus/classes/shd.class.php
on line
1384
Warning
: preg_match(): Compilation failed: invalid range in character class at offset 4 in
/home/tzavdesi/host/empreintedasie/wp-content/plugins/lightbox-plus/classes/shd.class.php
on line
1384
Warning
: preg_match(): Compilation failed: invalid range in character class at offset 4 in
/home/tzavdesi/host/empreintedasie/wp-content/plugins/lightbox-plus/classes/shd.class.php
on line
1384
Warning
: preg_match(): Compilation failed: invalid range in character class at offset 4 in
/home/tzavdesi/host/empreintedasie/wp-content/plugins/lightbox-plus/classes/shd.class.php
on line
1384
Warning
: preg_match(): Compilation failed: invalid range in character class at offset 4 in
/home/tzavdesi/host/empreintedasie/wp-content/plugins/lightbox-plus/classes/shd.class.php
on line
1384
Warning
: preg_match(): Compilation failed: invalid range in character class at offset 4 in
/home/tzavdesi/host/empreintedasie/wp-content/plugins/lightbox-plus/classes/shd.class.php
on line
1384
Warning
: preg_match(): Compilation failed: invalid range in character class at offset 4 in
/home/tzavdesi/host/empreintedasie/wp-content/plugins/lightbox-plus/classes/shd.class.php
on line
1384
Warning
: preg_match(): Compilation failed: invalid range in character class at offset 4 in
/home/tzavdesi/host/empreintedasie/wp-content/plugins/lightbox-plus/classes/shd.class.php
on line
1384
Warning
: preg_match(): Compilation failed: invalid range in character class at offset 4 in
/home/tzavdesi/host/empreintedasie/wp-content/plugins/lightbox-plus/classes/shd.class.php
on line
1384
Warning
: preg_match(): Compilation failed: invalid range in character class at offset 4 in
/home/tzavdesi/host/empreintedasie/wp-content/plugins/lightbox-plus/classes/shd.class.php
on line
1384
Warning
: preg_match(): Compilation failed: invalid range in character class at offset 4 in
/home/tzavdesi/host/empreintedasie/wp-content/plugins/lightbox-plus/classes/shd.class.php
on line
1384
Warning
: preg_match(): Compilation failed: invalid range in character class at offset 4 in
/home/tzavdesi/host/empreintedasie/wp-content/plugins/lightbox-plus/classes/shd.class.php
on line
1384
Warning
: preg_match(): Compilation failed: invalid range in character class at offset 4 in
/home/tzavdesi/host/empreintedasie/wp-content/plugins/lightbox-plus/classes/shd.class.php
on line
1384
Warning
: preg_match(): Compilation failed: invalid range in character class at offset 4 in
/home/tzavdesi/host/empreintedasie/wp-content/plugins/lightbox-plus/classes/shd.class.php
on line
1384
Warning
: preg_match_all(): Compilation failed: invalid range in character class at offset 4 in
/home/tzavdesi/host/empreintedasie/wp-content/plugins/lightbox-plus/classes/shd.class.php
on line
700
Warning
: Invalid argument supplied for foreach() in
/home/tzavdesi/host/empreintedasie/wp-content/plugins/lightbox-plus/classes/shd.class.php
on line
707
Warning
: preg_match_all(): Compilation failed: invalid range in character class at offset 4 in
/home/tzavdesi/host/empreintedasie/wp-content/plugins/lightbox-plus/classes/shd.class.php
on line
700
Warning
: Invalid argument supplied for foreach() in
/home/tzavdesi/host/empreintedasie/wp-content/plugins/lightbox-plus/classes/shd.class.php
on line
707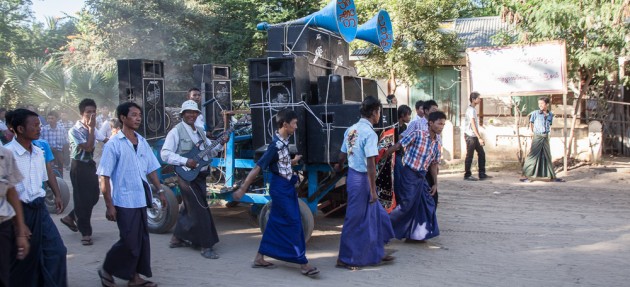 L'exotisme n'est pas l'apanage des paysages en voyage ! Fraîchement débarqués sur une terre nouvelle tout parait étrange, différent, fascinant. La curiosité est souvent réciproque d'ailleurs, on surprend autant que nous sommes surpris. Et rien n'amuse autant les gens que nos expressions intriguées, nos essais pour apprendre le birman et nos tentatives pas toujours heureuses pour nous fondre dans le décor à coup de bétel, de thanakha ou de longyi maintenu par une épingle à nourrice. Petit tour d'horizon, sûrement très limité, de quelques us et coutumes qui nous ont amusés, fascinés ou dégoûtés… bref qui nous ont marqués ; petit portrait chinois du Myanmar.
Si le Myanmar était un vêtement… ce serait bien sûr le longyi, vêtement officiel s'il en est ! Tout le monde en porte un noué autour de la taille, quoi qu'hommes et femmes aient chacun leur manière et leurs motifs. Pour les hommes il se porte noué sur l'avant, deux pans rabattus de chaque côté et un nœud permettant de faire tenir l'édifice. Le tissu est de couleur sobre et toujours à petits carreaux. Je me demande régulièrement si cela se porte comme le kilt mais Fred juge indécent que je pousse la recherche, purement culturelle, jusqu'à la vérification. Les Shans font exception à la règle et portent un pantalon traditionnel qui ressemble à ce que l'on appelle pantalon de pêcheur et que l'on trouve souvent en Thaïlande ou au Vietnam. Pour les femmes, le longyi se porte comme une jupe portefeuille et s'orne de motifs géométriques ou de fleurs. Le longyi se prête à toutes les occasions et tous les styles : pour aller au bureau avec une chemise ou un chemisier cintré, pour être cool avec un sweat à capuches ou un tea-shirt de groupe de rock…  Les enfants quant à eux, en attendant l'âge du longyi, arborent le pyjama en pilou et à têtes de nounours ou de lapins vendu en piles gigantesques sur tous les marchés.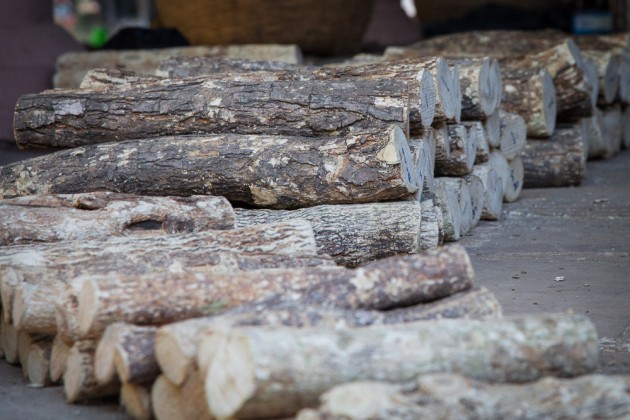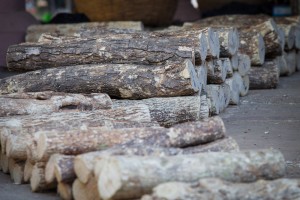 Si le Myanmar était un arbre, ce serait le thanakha qui couvre les visages des femmes et des enfants, étalé en masque beige ou en larges traits sur les joues. J'y serai initiée à plusieurs reprises sur les marchés mais plutôt que me fondre dans le décor je provoquerai de nombreuses réactions amusées et moult commentaires en déambulant avec mon maquillage tribal.
Si le Myanmar était un véhicule ce serait un chinese horse. Ici ils prolifèrent. Il s'agit des motos. J'amuse un guide en lui demandant à quel âge on a le droit d'en conduire une, « dès qu'on est assez grand pour tenir le guidon » me répond il, « pas de permis ici ». Il n'y a que le nôtre qu'on demande. On effraye plus que les enfants ! Et en effet, nous verrons pas mal de petits bouts « au volant » à un âge ou je ne suis pas sûre qu'en France tous sachent faire du vélo sans roulettes. Avant même de marcher les enfants sont habitués à être trimbalés sur les bécanes…. Et la sortie des écoles prend des aires de départ du Paris Dakar.
A l'inverse, à Yangon c'est l'absence totale de motos qui surprend. Deux explications nous en sont données ; D'après le chauffeur de taxi le trafic routier était trop dense quand il y avait des motos. D'après le guide, elles sont bannies depuis qu'une moto a embouti la voiture d'un officiel. Quoiqu'il en soit elles sont ici purement et simplement interdites ! Sur les motos les casques ne sont pas encore la règle générale. Il n'y a que lorsque nous demandons une course à moto qu'on se démène pour en trouver… pour nous seulement ! Nos protections ressemblent souvent à des casques de l'armée qui nous donnent, bien malgré nous , des airs de soldats allemands de la deuxième guerre mondiale.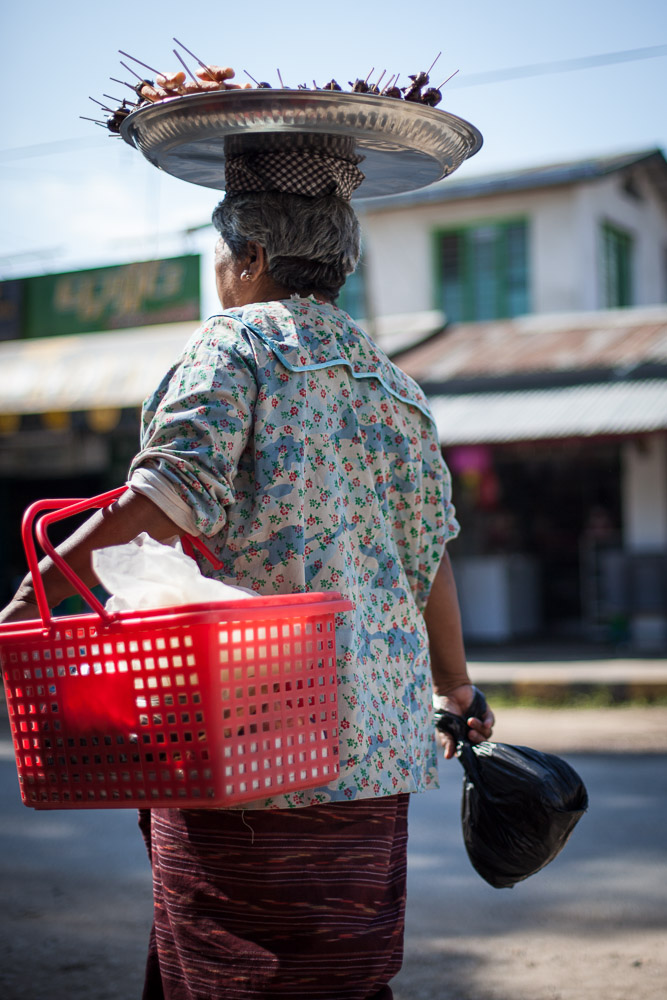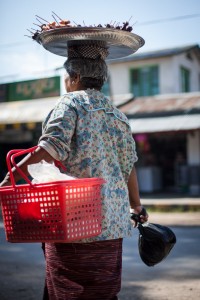 A défaut de porter des casques les femmes portent à peu près tout ce qu'il est possible sur leur tête. Un tissu en boule pour faire assise sur le haut du crâne et voila un moyen pratique de ramener sers courses du marché tout en tenant les enfants par la main. Ou de porter des plateaux remplis de marchandises. Ou des seaux d'eau. Ou des piles de corbeilles etc…. Le marché en particulier est un défilé d'équilibristes au port de tête droit et altier. Quand ce n'est pas la tête qui supporte ce sont les épaules ou le dos : tige de bambou lestée d'un panier à chaque extrémité comme une version agrandie des balances à plateaux qui sont encore monnaie courante sur les marchés, ou corbeille immense dans le dos qu'une lanière passée sur le front permet de trimbaler. Petite leçon donnée ni vu ni connu aux touristes rougeauds et haletants sous le poids de leurs sacs à dos rembourrés. J'en prends bonne note. Je m'entraînerai plus tard, à l'abri des regards….
Si le Myanmar était une couleur ce serait le rouge. Mais je ne parle pas de vêtements. Sauf à considérer les robes des moines. Je parle des bouches et des glaviots. Autrement dit du bétel. Ça mâchouille et ça crachouille à gogo. Et les vendeurs de rue de bétel abondent. Sur leur table le matériel est prêt en pièces détachées. Dans une feuille de bétel en forme de cœur il étalera de la chaux (« la même que pour peindre ta maison ? »  demandé-je à un revendeur qui me fit signe que oui) puis ajoutera de la noix d'arec concassée et du tabac avant de rouler le tout, obtenant ainsi un petit boudin végétal aux vertus dites stimulantes. Achetée par paquets de cinq la préparation est glissée dans le bouche puis longuement chiquée. La salive colorée en rouge est crachée avant que ne le soit ce qui reste de la chique après une vingtaine de minute de mastication. Du coup dans les rues, le bus, le train, le marché, bref partout, on crache et on sourit rouge. Parfois un crachoir est installé aux pieds des tables au tea-shop.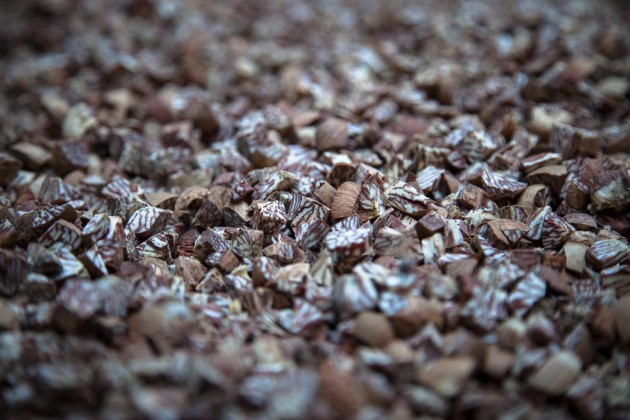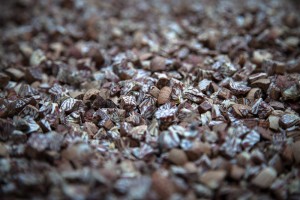 Regarder dedans n'est pas une bonne idée… J'avoue avoir un peu de mal à me faire aux crachas en continu quoique je les préfère encore au mouchage artisanal. Même si j'ai conscience que c'est moi la malpolie avec mon mouchoir. Fred voit le bon côté de toutes ces éructations… cela permettrait selon lui de fixer la poussière au sol. Certes. On a encore un peu de marge alors, tout n'est pas encore rougi. Mais c'est un bon moyen pour repérer les « places to be », les tea-shop prisés et les bouts de trottoirs fréquentés où les hommes jouent et papotent.
Les chiqueurs assidus n'ont pas que leur salive qui est rouge. Leurs chicots le sont aussi. Et leurs lèvres qui semblent ensanglantées. Une bonne chose que le french kiss ne se fasse pas ici….
Tiens en parlant de bisous…. Si le Myanmar était un bruit ce serait celui du baiser… Grâce à une coutume que Fred a embrassée avec plaisir : l'appel du serveur. Pas de tape ni de signe de la main. Non non. On l'appelle en faisant des bruits de bisous. Imaginez la façon dont vous appelleriez votre chat ou la façon vulgaire dont un garçon attirerait l'attention d'une jolie passante quand il ne la siffle pas. Voilà. Vous avez une idée de ce qu'il faut faire. C'est assez amusant d'entendre bisouiller de tous les côtés ! Moi j'ai un peu de mal à me lancer. Cela m'intimide. C'est donc Fred qui hérite de la charge du bisou. Et il s'en donne à cœur joie !
Coutume d'autant plus importante à connaître que les tea-shops sont ici un véritable institution ! Si le Myanmar était un lieu le tea shop serait au coude à coude avec la pagode. On vient y discuter en buvant du thé ou du « café » (pardonnez les guillemets mais le café ici n'est pas celui que l'on connaît. C'est un sachet en poudre trois en un ou tout est déjà mélangé : café, lait, sucre) en grignotant des beignets ou en mangeant une assiette de riz accompagnée de son curry. Un moine nous demande d'ailleurs si  nous aussi nous avons de tea shops en France. Je pense à nos fameux cafés et lui répond fièrement oui.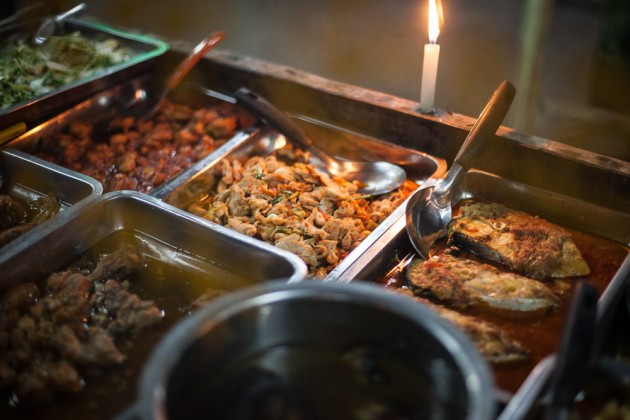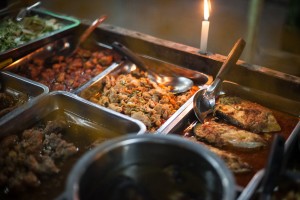 Il enchaîne : « et combien d'heures y passez vous par jour ? » Euh… Là ça dépend qui en fait… Ici on y passe plusieurs heures par jour consacrées à la socialisation ou à la télé vu que beaucoup sont équipée d'écran retransmettant des films. Ou des matchs de foot. Mais ces soirs-là le tea-shop affiche complet.
Toute la journée on trouve des gens attablés. Et pour cause. Ici on mange tout le temps. En tout cas à n'importe qu'elle heure du jour et de la nuit. D'ailleurs si le Myanmar était une activité ce serait manger. Et prier. Ce sont les deux passions des habitants ai-je lu quelque part. Pour ce qui est de manger il suffit de prendre un bus local pour s'en rendre compte. Et observer la profusion de l'offre : tea-shops, restaurants, stands de rue…
Pour ce qui est de prier, force est de constater que la religion occupe une grande place dans la vie des habitants. Pour les bouddhistes, la tradition qui veut que chaque garçon effectue un séjour au monastère avant ses 20ans est toujours observée.  Dans les monastères ou au défilé du matin on voit toujours beaucoup de jeunes enfants. A l'occasion d'un rafraîchissement qui nous est offert dans une épicerie  une femme tient d'ailleurs à me montrer l'album photo de la prise d'habit de son fils. La cérémonie semble s'être déroulée en grande pompe. Le garçon est habillé de beaux vêtements brodés de perles et de dorures (en souvenir du jour ou le fils du Bouddha, le prince Kahoula, devint un novice). Tout le monde pose à coté de la star du jour qui a été maquillée rouge à lèvres compris, et les filles de la famille ont les oreilles percées à cette occasion. Les pagodes quant à elles sont si nombreuses qu'elle s font partie intégrante de tous les paysages, facilement repérables à leur flèche dorée.
Nous verrons aussi très souvent des Bouddhas promenés sur des pick ups, toutes enceintes hurlantes, pour des récoltes de fond. De même que nous croiserons souvent sur la route des groupes postés de part et d'autre de la piste, agitant des bols argentés pour y recueillir des aumônes.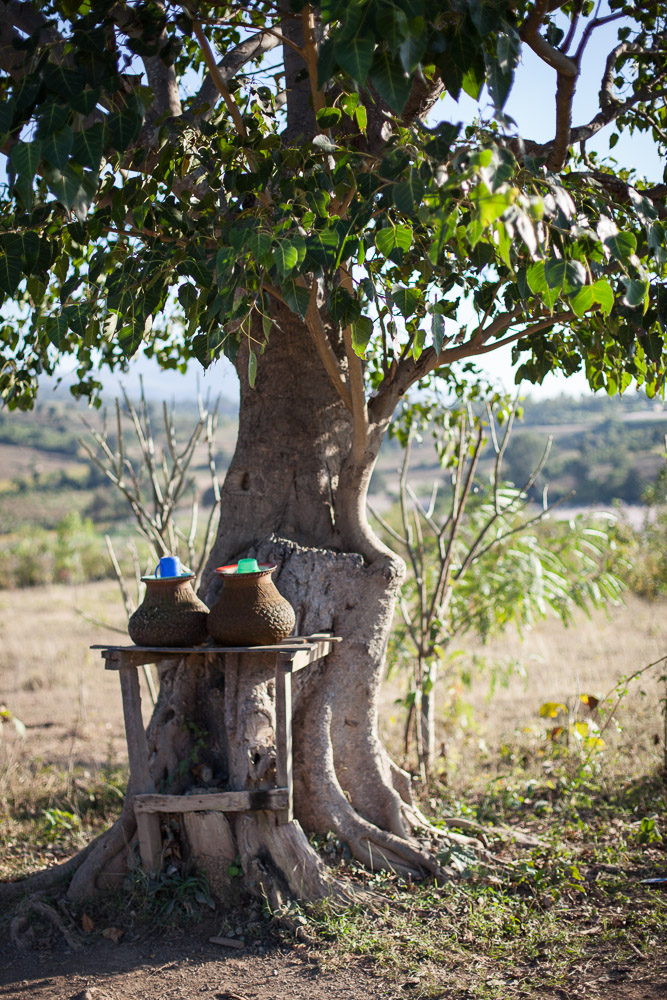 Quasiment aussi nombreuses que les pagodes les maisons des nats, esprits dont il faut s'attirer les faveurs, ou, en tout cas,  éviter de provoquer le courroux. Les offrandes servent d'intermédiaires entre ce monde et l'autre. Les nats sont au nombre de 37 et chacun a sa spécificité, tel le saint  patron des ivrognes. Lors d'un trek le guide nous apprend qu'il y en a un à prier pour avoir des enfants, un autre à apaiser avant de couper un arbre… Chaque événement a son nat à apaiser ou solliciter. Sans quoi l'on risque de s'attirer la fureur d'un de ces puissants esprits qui se vengent à coup de maladies. Mais toutes les petites maisons des bords de routes ne sont pas des autels… Il en est certaines que nous prenions pour des maisons aux esprits et qui sont équipées de baquets d'eau et de tasses. Un guide nous expliquera que cette eau est mise à disposition pour le passant assoiffé.
Au-delà de la religion et des croyances la superstition aussi a sa place. Elle se manifeste par exemple lorsqu'on prend le bus. Les voyageurs sont priés de ne jamais demander l'heure d'arrivée, moyen le plus sûr de provoquer un accident. Les astrologues et diseurs de bonne aventure abondent. Ils sont consultés en toute occasion et par toute la société jusqu'aux dirigeants. Beaucoup d'emplacements de capitales ont été choisis en fonctions de signes perceptibles par ces proches des étoiles, jusqu'à la capitale actuelle. Et l'histoire est fameuse de ce dirigeant qui a édité des billets de montants multiples de 9 car c'était son chiffre porte-bonheur !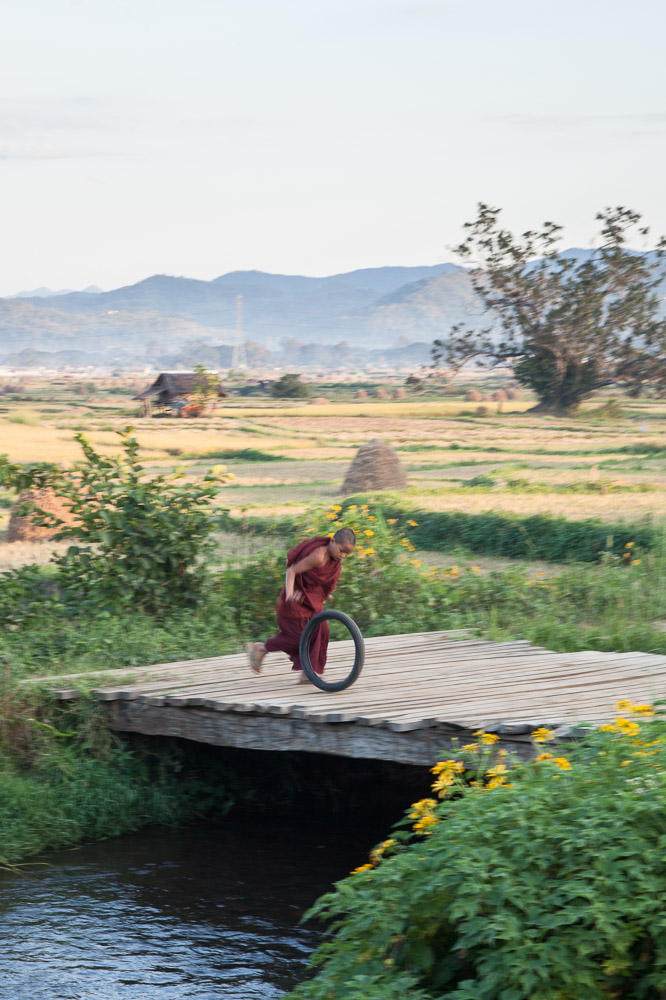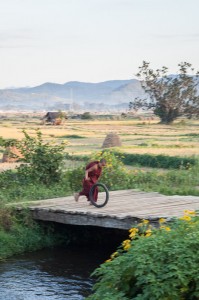 Pour que le portait soit complet, il faut aussi parler des jeux. Adultes comme enfants jouent beaucoup. Nous n'arrivons pas toujours à comprendre les règles des parties qui se jouent devant nous. C'est le cas par exemple d'un jeu très prisé par les hommes : 2 ou 4 joueurs se font face et devant chacun d'eux un damier est dessiné ou posé sur le sol formant une croix au centre de laquelle est placé un bol dans lequel on lance des coquillages. Selon la combinaison obtenue on bouge ses jetons ( ou ses capsules de bière) sur le damier. Peut être une variante du jeu de dame ? Dans un registre plus sportif ici aussi le jeu qui se pratique avec une balle de rotin fait fureur, sorte de volley qui se joue avec les pieds. Il parait qu'une rencontre entre tous les pays du sud est asiatique va avoir lieu en 2013. Les jeux des enfants sont plus simples à comprendre. Et ils nécessitent souvent très peu de matériel. Le jeu de la roue qu'il faut faire rouler est toujours en vogue ; pour nous il est teinté d'un charme suranné. Le pneu y remplace bien souvent le cerceau de nos grands-parents. Le cerf-volant aussi est à la mode. On en voit partout, y compris accrochés aux poteaux électriques, fil pris aux fils. Une version enfantine de la pétanque ou des billes nous amuse aussi beaucoup. Sauf qu'ici c'est sérieux, on y joue son argent de poche. Les billets sont pliés en triangle et plantés en alignement dans le sol. Qui parvient à en faire tomber un gagne le pot.
Il est temps de conclure ce rapide portrait chinois. Dernière catégorie pour la route : si le Myanmar était une étrangeté… ce serait le volant. Les voitures possèdent en effet un volant à droite (comme en Angleterre pour les non latéralisés)et roulent à droite (comme en France). Il parait que le le gouvernement a voulu rompre avec les habitudes des ex-colons britanniques pour marquer l'indépendance du pays ou que c'était une façon de se démarquer du communisme (les rouges sont à gauche, roulons à droite!). Sauf que le parc automobile dtae un peu et n'a pas encore pu s'adapter à cette décision politique. Du coup c'est périlleux sur les routes… surtout quand la porte du bus n'ouvre pas coté trottoir. Voila mon karma qui me rattrape. Je vais sérieusement finir comme mon bisaïeul moustique…. Ratatinée !